..ian george..
is an American singer-songwriter and multi-instrumentalist
the debut album
"Kingdom of my Youth"
was recorded in the summer of 2017 at French musician M's (Matthieu Chedid) Studio (Labo M) in Paris, France and will be released on May 1st, 2018.
WHAT'S GOING ON?
Ian is currently booking a summer and autumn tour through Europe with his band of 4 (drums, electric guitar, violin, and bass). This is a spanking new project for Ian. After founding, touring, and writing for multiple bands (Patchy Sanders, Fellow Pynins) for the past 10 years, Ian has decided to move in the direction of a solo career. He has toured extensively through the United States, Canada, and Europe and has played a goo-goo plex of concerts.
Ian has performed at these notable festivals/venues:
Four Corners Folk Festival, Pagosa Spring, CO
High Sierra Music Festival, Quincy, CA
Kate Wolf Folk Festival, Black Oak Ranch, CA
Wintergrass, Bellevue, WA
Oregon Country Fair, Veneta, OR
Beloved, Tidewater, OR
Sisters Folk Festival, Sister, OR
String Summit, North Plains, OR
Folk Alliance International, Kansas City, MO
American River Music Festival, Placerville, CA
California World Festival, Grass Valley, CA
The Freight & Salvage, Berkeley, CA
Sweet Water Music Hall, Mill Valley, CA
Kuumbwa Jazz Center, Santa Cruz, CA
Columbia City Theatre, Seattle, WA
Alberta Rose Theatre, Portland, OR
Tractor Tavern, WA
WOW Hall, Eugene, OR
Panida Theatre, Sandpoint, ID
The Bartlett, Spokane, WA
Sutter Creek Theatre, Sutter Creek, CA
The Icehouse, Minneapolis, MN
The Altamont Theatre, Asheville, NC
The Ark, Ann Arbor, MI
The Nest Collective, London, England
St. John's Theatre, Listowel, Ireland
An Diseart Cathedral, Dingle, Ireland
DC Folk Club, Dublin, Ireland

Hitt Husid, Reykjavik, Iceland

Suryalila Yoga Retreat Center, Villamartin, Spain

Theater Giuseppe Piazzi, Ponte in Valtellina, Italy
Who?: A frisky and flamboyantly charismatic whipper-snapper of a young man (occasionally flaunting an enormously overgrown orange beard), Ian George is really just a simple folk singer who takes great fancy in playing around kitchen tables being ridiculous, and snacking. For a decade Ian has been writing and singing songs for a handful of bands ever since the pivotal moment of being mangled and tasered by three brutally aggressive Eugene, Oregon police officers. After leaving the front-lines of activism behind, he turned to homesteading and minstreling as a form of activism. "I believe in music and stories, I believe they change the world," says Ian, often. Ian is somewhat frighteningly slender (openly vocalized mostly by his mother) and enjoys performing shoe-less and sweater-full. The crowds really enjoy his ballerina frolic through the kitchen adorned with nothing but his daughter's tutu story. If Ian was good enough and could make enough money playing as an Irish fiddler, he would.. But since he's not (not yet) he instead frontiers the Contemporary-Art-Folk-Music world, happily. Ian's live performance is an experimental and emotional ride teeming with unpredictable banter and play. Ian more often than not tours with his gorgeous band of talented handsome men (percussion, electric guitar, violin, bass). Ian was born and raised in Minneapolis, Minnesota and currently lives in Ashland, Oregon.
Here is a video that captures one facet of the music, this was recorded live for the album.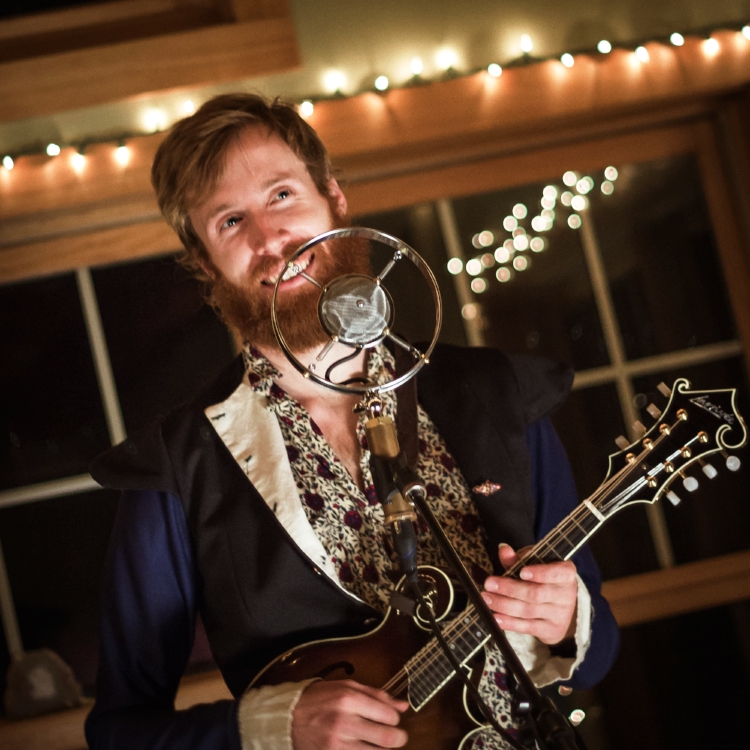 IANGEORGEMUSIC@GMAIL.COM
www.iangeorge.com
Offering workshops is one of Ian's favorite ways to connect with communities as he tours.
The interactive Songwriting Workshop focuses on inspiration for composition, ideas how to traverse new territories in one's creative process, and how to build a local community of songwriting circles.
Past Workshops: Wintergrass Festival, High Sierra Music Festival, Singing Alive, Plants enchant, California World Festival, and many public home workshops.